AvAILABLE NOW | Winner of 2 Emmys | RENEWED FOR SEASON 4
We're Here
3 Seasons | 20 Episodes | TV-MA
Watch Now
Follow renowned drag queens Bob the Drag Queen, Eureka O'Hara, and Shangela as they continue their journey across small-town America, spreading love and connection through the art of drag. In Season 3, the queens recruit a diverse group of local residents from Granbury, TX; St. George, UT; Brevard County, FL; Jackson, MS; and Sussex, NJ to share their stories, increase awareness, and promote acceptance in their communities by participating in one-night-only drag shows. In each town, the queens inspire their "drag daughters" to express their genuine selves in front of their families, friends and communities, at times facing increased opposition and anti-LGBTQ+ legislation laws.
The critically acclaimed second season was lauded by Variety for uncovering "deeper truths about small-town America that are often presented through a reductive lens, while finding the nuances of life and diversity." One of Esquire's "10 best TV shows of 2021," the season was praised for having "so much heart" by NPR, and Decider applauded it for being "the kind of show that can actually bring legitimate change to life."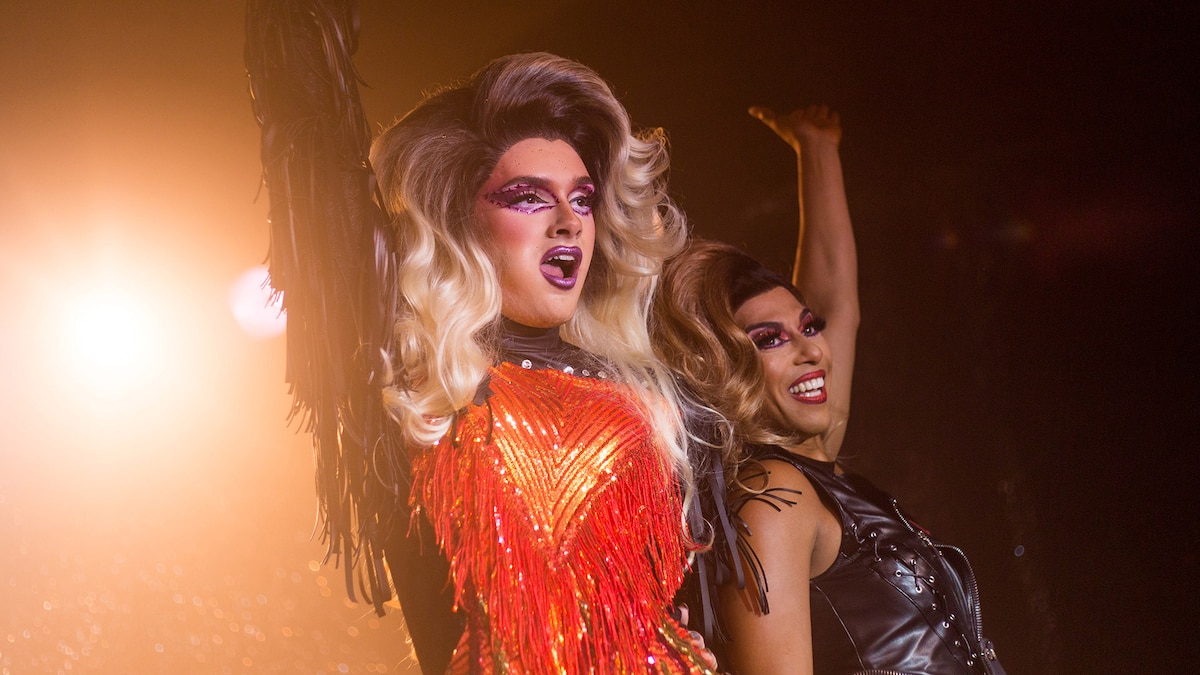 Watch the First Episode for Free
Start from the beginning of the series and watch the first episode of We're Here for free.
WATCH FOR FREE
Spartanburg, South Carolina
A year after their first visit was cut short due to the pandemic, Shangela, Bob, and Eureka return to Spartanburg, SC to catch up with Noah, who grapples with gender expression; plus-size lesbian model Faith; and Olin, who wants to bring his family together by walking in his brother's shoes – literally.
Temecula, California
In the Southern California town of Temecula, Bob, Eureka, and Shangela work with James, an often misgendered trans man navigating neurodiversity; Jake, his faith influencer mom Michelle, and his partner Brad; and Andrei, a cheerleader whose move back home finds him longing for his mother's acceptance.
Del Rio, Texas
Pride Month proves the perfect opportunity for Bob, Eureka, and Shangela to visit the border town of Del Rio, Texas. There, the queens celebrate gay identifying mayor Bruno Lozano's positive impact on the community, Joey's identity quest, and Esael's coming out journey.
Selma, Alabama
Bob, Eureka, and Shangela bring drag to Selma, AL, where the queer community remains hidden despite the city's historical significance to the civil rights movement. There, they help recently transitioned Akeelah find the confidence to live life beyond closed doors, release Joseph's deep-seated pain, and encourage Deborah to prioritize herself for a change.
Evansville, Indiana
Hoping to open hearts and minds in Evansville, IN, Bob, Eureka, and Shangela help Methodist Pastor Craig promote LGBTQ equality to his congregants, inspire Tunisian refugee Kaïs to celebrate all facets of his entire identity, and facilitate the long-overdue wedding of civil rights activists Barbara and Yvon.
Watertown, South Dakota
Bob, Eureka, and Shangela shine a much-needed spotlight on the small but mighty queer community in Watertown, SD, where they mentor competitive and deeply connected identical twins Justice and Jaadon; fierce "mamabear" Amy, who's the founder of a local LGBTQ support group; and Erik, who's ready to push past immense societal pressures and finally express his true self.
Kona, Hawaii
Bob, Eureka, and Shangela gladly accept the "kuleana" (responsibility) of working with Kekoa, a former drag queen ready to dust off his heels for the first time since getting sober; teacher and performer Jaquelynn, who wants to be as confident coming out in Kona as she was in NYC; and proud Māhū warrior Lanakila, who's looking to be a little more vulnerable for the community.
Grand Junction, Colorado
Bob, Eureka, and Shangela empower three members of Grand Junction, CO's trans community to share their most authentic selves, including Taylor, who is tired of limiting himself for others; Angie, who has shied away from her hometown since transitioning; and Dustin, who is beyond ready to dispel the misconceptions of people with disabilities.
Granbury, Texas
Bob, Eureka, and Shangela have their work cut out for them as they travel to what might be their most contentious city yet, Granbury, Texas, to help Adrienne, a hairstylist and fiercely unapologetic ally; Lou, a nonbinary teen struggling to reclaim the safety and acceptance they felt in their former community; and Deshay, a minister of music recently removed from their church.
Jackson, Mississippi
Bob, Eureka, and Shangela travel to Jackson, Mississippi – a city with a long history of oppression – to help Mark reinforce his dedication to creating an authentic, safe community for other queer people of color; Debronski find his voice and overcome the fear that's been holding him back; and motorcycle-riding Chris, whose allyship is as hardcore as his lifestyle.
St. George, Utah
Despite a public battle with St. George's City Hall, the show must go on as Bob, Eureka, and Shangela help Toni, a trans teen struggling with being misgendered… even at home; Gaby, who left the Mormon church after coming out as bisexual – and whose mother followed in support; and Micah, a devoted advocate for the city's queer community.
Sussex, New Jersey
Bob, Eureka, and Shangela visit Sussex, New Jersey – only a stone's throw from Manhattan but a world apart in its politics. There, they help Ashley find a supportive community beyond her loving parents; bisexual navy vet Josh work through trauma and face accepting his whole self; and Brandon, who might be Shangela's most unexpected "daughter" yet.
Florida, Part 1
Bob, Eureka, and Shangela bring much-needed love and acceptance to Florida, the epicenter of anti-queer hysteria, to help high school teacher Jaime raise awareness for her trans daughter Dempsey; long-time couple Mandy and Lori celebrate a recent transition; Mark becomes more open about his gay identity; and Pulse nightclub shooting survivor, Vico, face his trauma and fears.
Florida, Part 2
As they put the finishing touches on the drag show, Bob, Eureka, and Shangela continue their work with Jaime, Dempsey, Mandy, Lori, Mark, and Vico. Meanwhile, Eureka is inspired by Mandy to be upfront about her own identity and live a more authentic life.