The award-winning HBO comedy/talk series Real Time with Bill Maher returns for its 21st season with 35 brand-new episodes. Bolstered by comedian/satirist Bill Maher's unfiltered perspective, each edition includes an opening monologue, roundtable discussions with panelists, interviews, and a closing segment featuring Maher's "New Rules." As always, the host and his rotating guests of actors, activists, politicians, musicians, comedians, and more, bring much-needed humor and skepticism to the critical issues of 2023, continuing Real Time's run as the premiere platform for debate, comedy, and social discourse.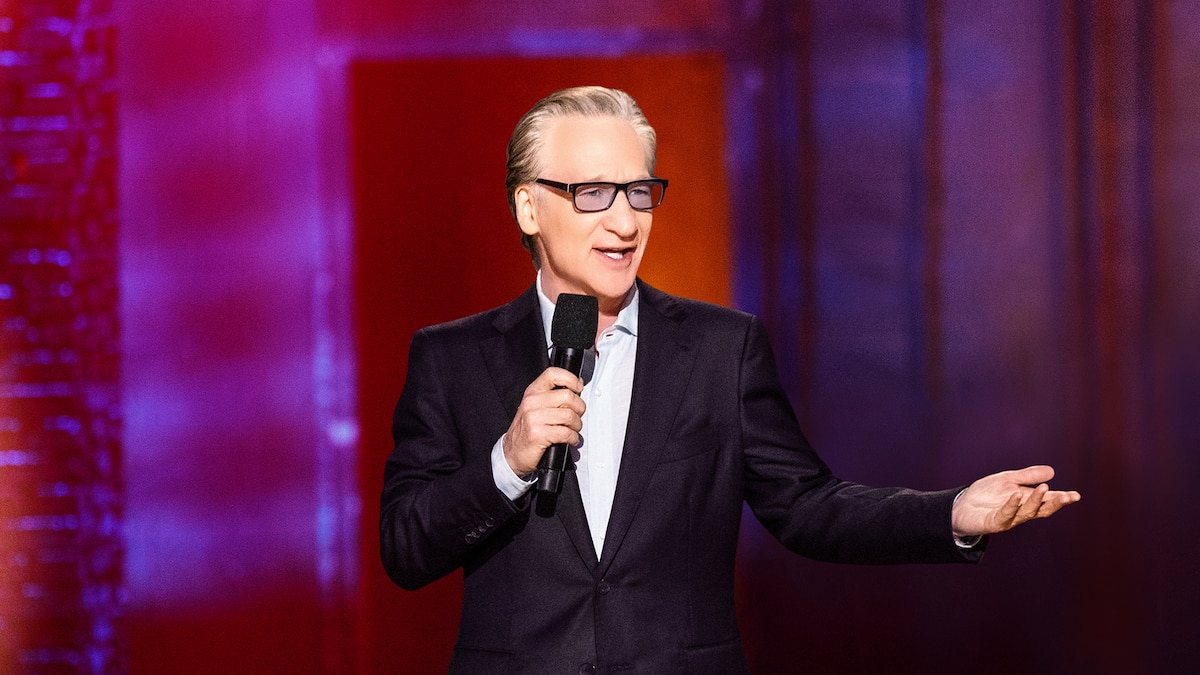 Bill Maher: #Adulting
Bill takes to the stage in his latest stand-up special for a hilarious and scathing hour of his signature commentary on the latest hot-button issues.
Find Out More
January 20, 2023: William Barr, Andrew Sullivan, Rep. Nancy Mace
Guests: William Barr - former Attorney General and author of "One Damn Thing After Another: Memoirs of An Attorney General"; Andrew Sullivan - blogger of The Weekly Dish on Substack and author of "Out on a Limb: Selected Writing, 1989 – 2021,"; Rep. Nancy Mace - Congresswoman representing South Carolina's 1st congressional district.
January 27, 2023: Frances Haugen, Bari Weiss, Tim Ryan
Guests: Frances Haugen - social media activist and author of "The Power of One: How I Found the Strength to Tell the Truth and Why I Blew the Whistle on Facebook"; Bari Weiss - founder and editor of The Free Press; Tim Ryan - former Ohio Congressman.
February 3, 2023: Medaria Arradondo, Bret Stephens, Ruben Gallego
Guests: Medaria "Rondo" Arradondo - former Minneapolis police chief who served from 2017-2022; Bret Stephens - New York Times columnist; Rep. Ruben Gallego - Democratic congressman from Arizona.
February 10, 2023: Malcolm Nance, Kristen Soltis Anderson, Paul Begala
Guests: Malcolm Nance - counterterrorism expert and author of "They Want to Kill Americans: The Militias, Terrorists, and Deranged Ideology of the Trump Insurgency"; Kristen Soltis Anderson - pollster and host of SiriusXM's "The Trendline with Kristen Soltis Anderson"; Paul Begala - Democratic strategist and CNN political contributor.
February 17, 2023: Christoph Waltz, Ari Melber, Sarah Isgur
Guests: Christoph Waltz - two-time Academy Award®-winning actor and star of "The Consultant" on Amazon Prime; Ari Melber - host of MSNBC's "The Beat With Ari Melber" and staff writer for The Dispatch, host of "The Dispatch Podcast"; Sarah Isgur - contributor and political analyst for ABC News.
March 3, 2023: Bernie Sanders, John Heilemann, Russell Brand
Guests: Bernie Sanders - Vermont Senator, former Democratic presidential candidate, and author of "It's OK to be Angry About Capitalism," John Heilemann - host and executive producer of Showtime's "The Circus" and host of the podcast "Hell & High Water with John Heilemann"; Russell Brand - actor, comedian and host of "Stay Free with Russell Brand."
March 10, 2023: David Byrne, John McWhorter, Josh Tyrangiel
Guests: David Byrne - singer, songwriter, and musician, who co-wrote and recorded the Oscar-nominated song "This Is A Life"; John McWhorter - New York Times newsletter author and contributor to "The Glenn Show" podcast; Josh Tyrangiel - journalist, executive producer, and Chief Operating Officer for Eden Productions and Kunhardt Films.
March 17, 2023: Noa Tishby, Andrew Yang, Rep. Elissa Slotkin
Guests: Noa Tishby - Israeli actress, producer, and activist whose most recent book is "Israel: A Simple Guide to the Most Misunderstood Country on Earth"; Andrew Yang - tech entrepreneur, former presidential candidate, author of "Forward," and founder of The Forward Party (PAC); Rep. Elissa Slotkin - Democratic Congresswoman representing Michigan's 7th district.
March 24, 2023: David Sedaris, Scott Galloway, Annie Lowrey
Guests: David Sedaris - bestselling author and humorist; Scott Galloway - co-host of "Pivot Podcast," host of "The Prof G Show with Scott Galloway" podcast and author of "Adrift: America in 100 Charts,"; Annie Lowrey - staff writer for The Atlantic and author of "Give People Money: How a Universal Basic Income Would End Poverty, Revolutionize Work, and Remake the World."
March 31, 2023: Chris Sununu, James Kirchick, Winsome Sears
Guests: Chris Sununu - Republican Governor of New Hampshire; James Kirchick - Columnist at Tablet Magazine, writer-at-large for Air Mail, and author of "Secret City: The Hidden History of Gay Washington"; Winsome Sears - the first woman to serve as Lieutenant Governor of Virginia and first woman of color and Jamaican-born American to hold statewide office in Virginia's history.
April 14, 2023: Ben McKenzie, Rep. Katie Porter, Piers Morgan
Guests: Ben McKenzie - actor and co-author of "Easy Money: Cryptocurrency, Casino Capitalism, and the Golden Age of Fraud"; Rep. Katie Porter - Democratic Congresswoman from California; Piers Morgan - host of "Piers Morgan Uncensored."
April 21, 2023: Esther Perel, Glenn Loury, Daniel Bessner
Guests: Esther Perel - psychotherapist, bestselling author, and host of the podcast "Where Should We Begin"; Glenn Loury - Professor of Economics at Brown University and host of "The Glenn Show" podcast; Daniel Bessner - professor, foreign policy advisor to Bernie Sanders' 2020 Presidential campaign, and co-host of the "American Prestige" podcast.
April 28, 2023: Elon Musk, Ian Bremmer, Konstantin Kisin
Guests: Elon Musk - co-founder/CEO and product architect of Tesla and owner/CEO of Twitter; Ian Bremmer - founder and president of Eurasia Group and author of "The Power of Crisis: How Three Threats – And Our Response – Will Change The World"; Konstantin Kisin - co-host of the YouTube show and podcast "TRIGGERnometry" and author of "An Immigrant's Love Letter to the West."