Season 3 Available Now | Renewed for Season 4
The Righteous Gemstones
3 Seasons | 27 Episodes | TV-MA
WATCH NOW
From Danny McBride (HBO's Vice Principals), this critically acclaimed comedy follows a world-famous televangelist family with a long tradition of deviance, greed, and charitable work. Left flailing in the wake of their patriarch Eli Gemstone's (John Goodman) semi-retirement, Season 3 finds Jesse (McBride), Judy (Edi Patterson), and Kelvin (Adam Devine) in charge of the vast Gemstone empire. When their long-lost cousins come out of the woodwork, the siblings must work together if they want to keep the Gemtsone legacy intact. An irreverent look at the lives of holy rollers, The Righteous Gemstones explores the salacious world of those who offer salvation… to the highest bidder.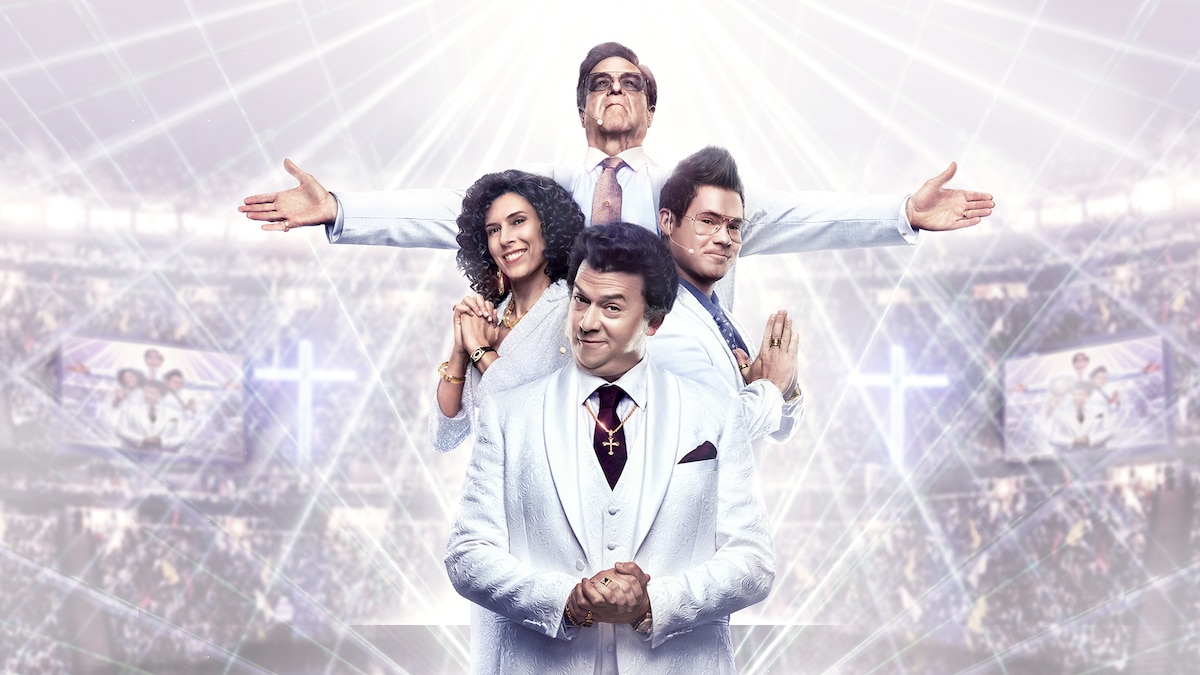 Watch the First Episode for Free
Start from the beginning and watch the first episode of The Righteous Gemstones for free.
WATCH FOR FREE
I Speak in the Tongues of Men and Angels
As Jesse eyes a business opportunity with an Evangelical couple on the rise, the media cracks down on a fellow preacher. Meanwhile, Eli reconnects with a figure from his mysterious past.
After I Leave, Savage Wolves Will Come
After doubling-down on their efforts to invest in Zion's Landing, Jesse and Amber scramble for the cash. Meanwhile, Eli's attempts to dodge a big-city reporter spell doom for the Gemstones.
For He Is a Liar and the Father of Lies
The Gemstone siblings seek to pull back the curtain on their father's past. Eli shares a hard truth, and Kelvin grapples with an unruly God Squad.
As To How They Might Destroy Him
Still reeling from their father's revelation, Kelvin and Jesse conspire to put Eli in his place. As BJ's baptism approaches, Judy clashes with her in-laws, while Baby Billy struggles with his own growing family.
Interlude II
Christmas, 1993. While Eli considers a tempting offer from an old friend, Baby Billy crashes the Gemstones' celebrations.
Never Avenge Yourselves, But Leave It to the Wrath of God
After surviving a harrowing attack, Jesse takes matters into his own hands. Eli attempts to make amends, while Kelvin struggles to control his flock.
And Infants Shall Rule Over Them
With Eli temporarily out of the picture, the Gemstone siblings are left to quarrel over who's in charge – until some wise words help pave a way forward. As Tiffany tracks down Baby Billy, Gideon faces his future.
The Prayer of a Righteous Man
As the dust settles back at the compound, Jesse, Kelvin, and Judy consider where they stand. Baby Billy reconnects with a figure from his past.
I Will Tell of All Your Deeds
While the Gemstones celebrate the launch of Zion's Landing, Baby Billy faces a chance to embrace fatherhood.
For I Know the Plans I Have for You
In the wake of their father's semi-retirement, Jesse, Judy, and Kelvin must deal with dwindling attendance – and donations. Later, Eli is visited by another figure from his past.
But Esau Ran To Meet Him
Eli does his best to smooth over relations with the Montgomery boys after a visit to their doomsday prepper compound. Back at the Salvation Center, the siblings face off against the Board of Ministers.
For Their Nakedness Is Your Own Nakedness
Tired of life in the lap of luxury, Baby Billy pursues a new vocation as gameshow host. The Gemstones host a cousins' night for Karl and Chuck.
I Have Not Come To Bring Peace, But a Sword
While Jesse prepares for his initiation into a prestigious secret society, Judy fends off unwanted attention, and Kelvin handles rumors about Keefe. Later, Baby Billy makes an impossible promise.
Interlude III
2000. After a Y2K doomsday fails to materialize, Eli and Aimee-Leigh find themselves flooded with criticism from their congregants…and the Montgomerys. Later, the arrival of Jesse's girlfriend Amber throws an already fragile Judy for a loop.
For Out Of The Heart Comes Evil Thoughts
Threatened with blackmail, Judy turns to Amber for advice, while Jesse goads BJ into a long-simmering fight. As a despondent Kelvin tackles life without Keefe, Baby Billy works on bringing Jesse's miracle to life… for a price.
Burn For Burn, Wound For Wound, Stripe For Stripe
After decades of animosity, tensions between the Montgomerys and the Gemstones finally come to a head. As Eli faces an impossible decision, Jesse, Judy, and Kelvin prepare to meet their maker.
I Will Take You by The Hand and Keep You
The Gemstone siblings reconnect with their loved ones… and each other. As the Montgomery militia fractures from within, Chuck weighs his options, while Peter hatches a new plan.
Wonders That Cannot Be Fathomed, Miracles That Cannot Be Counted
The siblings compete in an all-out biblical brawl – until a stroke of divine intervention forever alters the fate of the Gemstone family.