Adapted from the first book in Elena Ferrante's acclaimed "Neapolitan Novels," this drama series follows Elena Greco, a now-elderly woman who discovers the most important friend in her life, Raffaella "Lila" Cerullo, has disappeared. An author immersed in a house full of books, Elena starts writing the story of her and Lila's tempestuous friendship.
Watch the First Episode for Free
Start from the beginning and watch the first episode of the series for free.
Watch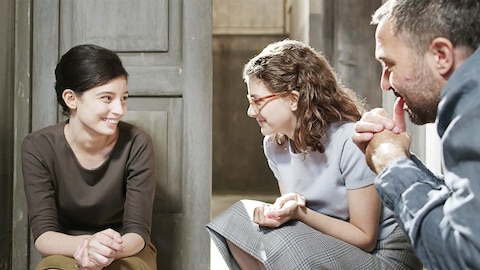 My True Brilliant Friend
This companion documentary follows the journey of young actors Margherita Mazzucco and Gaia Girace, from first introductions to the series' premiere, as they work to bring the story of two best friends to life.
WATCH NOW
The New Name
Chapter 9. Season Two Premiere. With Lila on her honeymoon on the Amalfi Coast, Elena struggles to handle school and her relationship with Antonio. When Lila returns with visible bruises on her body, the two girls revert to their natural closeness and Lila's will to take revenge against her husband grows. Elena continues to be bewitched by Nino Sarratore's charisma.
The Body
Chapter 10. Elena's relationship is threatened when Antonio discovers she has asked the Solaras' help to keep him from doing military service, while Lila remains rebellious in her marriage to the often-violent Stefano. After a photo of her becomes the subject of much gossip, Lila makes a bet with Elena about how the whole affair will end.
Erasure
Chapter 11. Upset that her picture is featured prominently in the new shoe shop Stefano is opening with the Solaras, Lila comes up with a creative solution to deal with the matter and enlists Elena's help. Though Lila begins working at the Caraccis' new grocery store, she continues to resent her husband's business activities and the source of their income.
The Kiss
Chapter 12. At Rino and Pinuccia's wedding, Elena accepts Lila's invitation to go on holiday, provided the destination is Ischia, where she knows she'll find Nino. On the island, Elena, Lila and Pinuccia begin to spend more and more time with Nino and his friend Bruno and Lila starts to take a strong interest in Elena's summer reads.
The Betrayal
Chapter 13. As Pinuccia returns to Naples, a new secret excites Lila and numbs Elena. Subdued by Lila's charisma and indifferent to Bruno's flattery, Elena finds herself the keeper of a far darker clandestine series of events involving Donato Sarratore. After the girls encounter Michele and Gigliola, Lila seizes the opportunity to throw the whole truth in Stefano's face.
Rage
Chapter 14. Following her summer on Ischia, Elena throws herself into her studies and looks towards a future outside of the neighborhood. After a brilliant finals performance, Elena happens upon Lila, who is working at the shoe store and has grand plans for a fresh start. Lila decides to leave Stefano and moves into a modest apartment, but the failings of her plan soon emerge.
Ghosts
Chapter 15. Three years into her time in Pisa, Elena has developed into an elegant and cultured young woman--but still feels like an outsider. After a consequential breakup, Elena falls ill and is visited by her mother, who has come to nurse her back to health. During the night, Elena takes to reading Lila's diaries, which were entrusted to her for safekeeping.
The Blue Fairy
Chapter 16. Season finale. With graduation in sight, Elena is overwhelmed by memories of her past and copes by drafting her first novel. Meanwhile, she finds a new suitor in Pietro Airota. Upon receiving some unexpected good news, she sets out to find Lila, whose circumstances have seen a dramatic change.
More Book-to-Screen Series