Created by and starring Issa Rae, this comedy series looks at the friendship of two modern-day black women, as well as all of their uncomfortable experiences and racy tribulations. As they navigate the tricky professional and personal terrain of Los Angeles, best friends Issa (Rae) and Molly (Yvonne Orji) face the challenges of being black women who defy all stereotypes.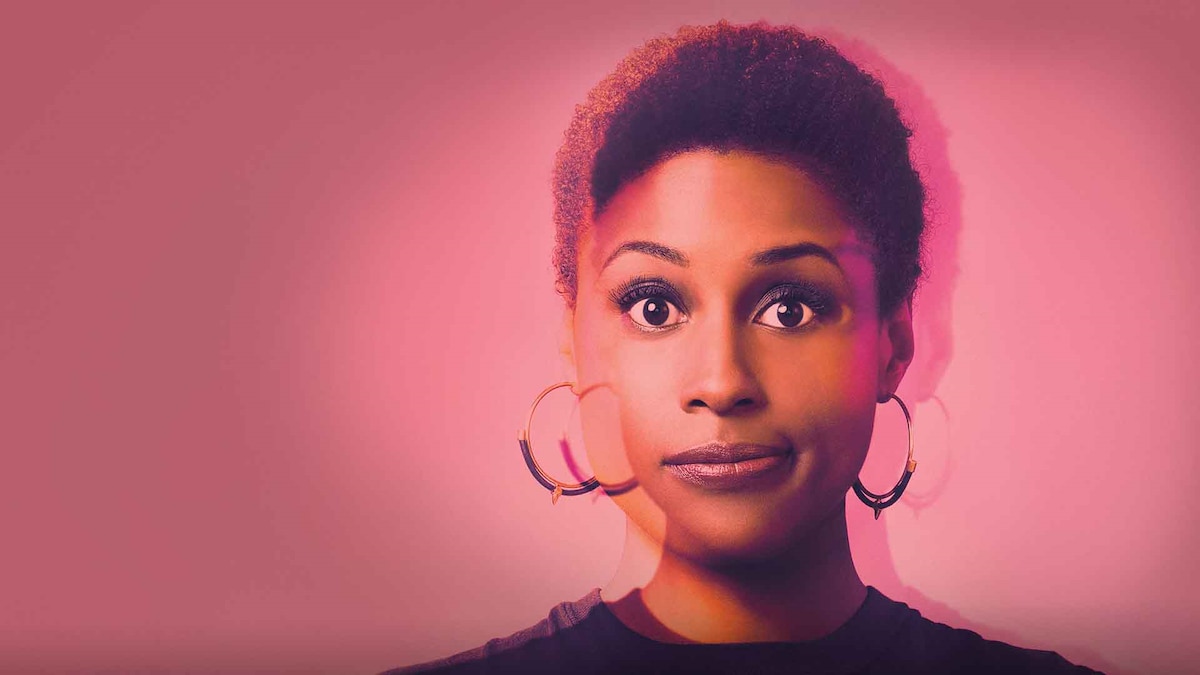 Watch the First Episode for Free
Start from the beginning and watch the first episode of Insecure now — no subscription required.
WATCH FOR FREE
Issa's Wine Down
Inside the Episdoe
Luvvie Recaps
Luvvie Ajayi Jones is a writer, blogger, and cultural influencer known for her sharp wit, and her take on all things pop culture, race, media and technology.
Sometimes you have to just grab hold of the mic and see where it leads. Insecure's Yvonne Orji (Molly) shares how she went from beauty contestant to stand-up comic in one night. Watch the Backstory.
Hella Great
Season Two Premiere. Issa struggles in the aftermath of her breakup with Lawrence, while facing challenges at a new work assignment. Molly questions her worth at work, while Lawrence adjusts to his new living arrangement.
Hella Questions
Issa tries to make sense of a cryptic encounter. Lawrence considers some crucial decisions. After being on the receiving end of some harsh truths, Molly plots to join the office 'boys club.' Issa and Frieda encounter a problematic vice principal.
Hella Open
A sexually frustrated Issa explores a new dating outlook. On a girls' night out, Molly meets a promising new guy. Lawrence's commitment is tested by his new work friends.
Hella LA
At a day party, Issa has her newfound confidence shaken. Molly has a blast from the past with childhood friend, Dro. A trip to the grocery store turns into a wild and crazy night for Lawrence.
Hella Shook
Issa attempts to build a roster and butts heads with Frieda at a work retreat. Molly's day takes an unexpected turn at her parents' vow renewal ceremony. Lawrence stumbles upon some news about Issa.
Hella Blows
Finding herself without a car, Issa is met with disappointment as she maintains her roster. Molly frets about an important friendship while embracing something new. Lawrence gets a rude awakening at work after pitching his app.
Hella Disrespectful
Tensions run high during Derek and Tiffany's dinner party. Molly rethinks her future after being forced to come to terms with her romantic realities. Issa tries to make things right with Frieda.
Hella Perspective
Season Two Finale. Over the course of one pivotal month, Issa, Molly and Lawrence face choices impacting their work and personal lives, with each considering whether to embrace a new future or look back to the past.
Better-Like
Season Three Premiere. Issa crashes on Daniel's couch and tries to save up some extra cash. Molly returns from a beach vacation with renewed determination to maintain boundaries in her life.
Familiar-Like
Issa gets advice from Kelli about her financial situation. Later, Issa plays wing woman as Daniel tries to make a music-industry connection.
Backwards-Like
Issa is inspired while recruiting at a job fair with Frieda. Later, Issa treats Daniel to a thank-you dinner as she remains hopeful about their future. Molly starts her dream job at a black-owned law firm.
Fresh-Like
Issa tries to let go of some cherished mementos. At work, Frieda tries to help Issa get back in Joanne's good graces. Molly bonds with her new colleagues about an over-confident associate and vents to her therapist about her status at work. Next episode premieres Sept. 9 at 10:30 PM.
High-Like
The girls take a trip to a music festival to celebrate Tiffany. Molly has trouble leaving her obsession with work behind.
Ready-Like
Issa needs moral support when her new project proves more complicated than she thought. Issa and Kelli press Molly to consider dating someone new. Later, the girls attend Tiffany's baby shower and try to be helpful.
Obsessed-Like
Issa tries to concentrate on her business plan, but is driven to distraction. Molly steps out of her comfort zone in her love life.
Ghost-Like
Season Three Finale. After facing numerous obstacles, Issa gets discouraged about her project. Molly helps give Issa a drama-free 30th birthday.
Lowkey Feelin' Myself
Season 4 Premiere. With Condola's guidance, Issa prepares for a mixer in her courtyard to pitch the block party to potential sponsors--but tensions rise when they discover a mutual connection. Molly begins to develop unexpected feelings for Andrew.
Lowkey Distant
When Issa and Condola decide to confront the elephant in the room head-on, Lawrence gets uncomfortable. In search of a real connection, Molly struggles to get Andrew to open up during a carefully architected date night.
Lowkey Thankful
While Molly's family celebrates Thanksgiving together, Issa and Ahmal decide to do their own thing. Meanwhile, when Lawrence joins Friendsgiving at Condola's house, the new couple breaks some awkward ground.
Lowkey Losin' It
The girls get together to help Tiffany with her new baby girl. Later, Issa struggles to finalize key details for the block party and turns to Molly to leverage Andrew's connections.
Lowkey Movin' On
With the block party finally here, Issa is determined to deliver a memorable event, despite some surprises. Meanwhile, Tiffany enjoys a break from her baby, Kelli entertains a gullible new boo, and Molly attempts to put a grudge on hold.
Lowkey Done
In need of some positive vibes after the block party, Issa goes out of her way to do good for random people across L.A., eventually turning to an unlikely source for comfort. Meanwhile, Kelli urges her friends to reconcile.
Lowkey Trippin'
Molly and Andrew take off for their first couples' vacation with Andrew's brother Victor and his wife Lydia – and despite their packed schedule, the trip is smooth sailing until a hotel employee steps out of line. Meanwhile, Molly begins to reevaluate her inability to let things go.
Lowkey Happy
Issa and Lawrence catch up and talk life, careers, past mistakes, and what makes each of them happy.
Lowkey Trying
Issa considers doing Nathan a platonic favor. Meanwhile, both Dr. Rhonda and Andrew ask Molly to consider a different approach in dealing with people who've wronged her, and Issa extends a timely olive branch.
Lowkey Lost
Season Four Finale. Molly takes Andrew to a work function and they struggle to see eye-to-eye. Issa continues to search for happiness. The girls get a distressing call about a friend.
Reunited, Okay?!
Pulling up to her ten-year college reunion in style as an alumni panelist, Issa's self-doubt quickly surfaces, while Molly – still reeling from her breakup – struggles to get out of her own head. As the crew takes the opportunity to reflect, old wounds remain tender.
Growth, Okay?!
Despite her now thriving business, Issa struggles to find her footing and turns to an old friend for support. Meanwhile, Molly contemplates jumping back into the dating pool.
Pressure, Okay?!
Still adjusting to newfound responsibilities, one of Issa's exes finds himself torn between two places, while an important woman in his life remains wary of his ability to be fully present back home.
Faulty, Okay?!
Issa and her new man tread awkward waters at a work-related social event. Meanwhile, Molly juggles multiple suitors, and Issa plays defense against online attacks about her business.
Surviving, Okay?!
A family emergency finds Molly stretched thin between taking care of loved ones, staying on top of work, and zeroing in on her own perceived shortcomings. As a hectic day unfolds, Issa and her new man grow closer than ever.
Tired, Okay?!
A distracted Issa mulls over work and love as she stumbles through the consequences of her falling out with a colleague. Meanwhile, Molly – still struggling to cope with family matters – finds comfort in an unlikely source.
Chillin', Okay?!
A long overdue girls' night filled with self-reflection and real talk puts things into perspective for Issa and her friends.
Choices, Okay?!
At a crossroads in her career, Issa weighs the pros and cons of two viable paths while simultaneously contemplating an important personal next step. Meanwhile, with help from Kelli, Molly spends an overwhelming day getting her parents' estate plan in order.
Out, Okay?!
At a friend's going away party, Issa navigates unresolved feelings. After spending the day letting loose with her new man, Molly opens up about her fears.
Everything Gonna Be, Okay?!
As she and her friends try to make time for each other no matter what, Issa looks back on all it took to get to where she is today.
Insecure Fest
For the fifth and final season of Insecure, Insecure Fest returned as an in-person event where cast, crew and hundreds of fans came together to say farewell to the show. The five-hour festival, hosted by Crissle and Fran of the InsecuriTEA podcast, featured Black-owned vendors, immersive photo moments, musical performances, and an exclusive screening of the first episode of Season 5.